What is Cripple Wall Bracing?
Cripple walls are wooden stud walls on top of the exterior foundation. They support the weight of the house and create a crawl space. The diagram below shows how these cripple walls may be braced with plywood.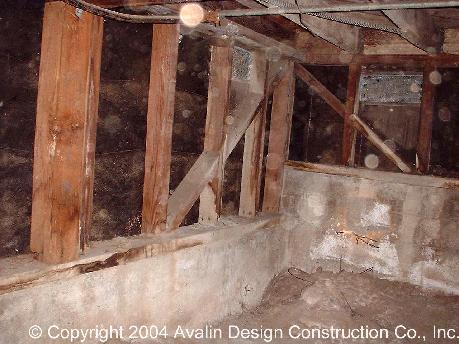 Unbraced cripple walls may collapse with the side to side swaying of the house during an earthquake, causing the house to fall. The picture on the right shows a typical unbraced cripple wall which poses an earthquake hazard. Avalin Seismic Construction Co. was hired to retrofit this house.
This photo shows cripple wall bracing in progress. Note the new lumber being added as backing to create solid edges for the shear wall nailing, as well as the expansion bolts in place and the framing anchors connecting the rim joist to the top of the cripple wall.
Bracing the cripple walls by using structual-grade plywood is simple and provides greater resistance to earthquakes. This photo shows how Avalin Seismic Construction Co. has finished the retrofitting. The cripple walls are now braced.
A cripple wall is a short wooden wall (usually 1-3 feet tall) that some homes sit on. The main purpose of a cripple wall is to lift a house above the ground, generally being used when the ground is not flat or even. Cripple walls pose structural risks, especially in areas prone to earthquakes. In some cases cripple walls were used to save money on concrete, and do this at the cost of some structural integrity. Cripple walls are most common in houses built before 1940. These walls rely on consistent gravity/downward pressure to squeeze it between the concrete foundation and the house. In the event of an earthquake, cripple walls are much more susceptible to slide or collapse if not braced and bolted.
The horizontal movement of an earthquake may cause a cripple wall to collapse if it is not braced, causing the house to drop.
An earthquake may also cause a cripple wall to slide off of the foundation if it is not properly bolted to the concrete foundation. This can cause the house to shift or drop.
Cripple walls require retrofitting in order to improve structural integrity, and can be reinforced by adding Plywood Panels. Structural grade plywood can be nailed between the studs of a cripple wall, turning it into a sheer wall. This helps brace the wall.
Contact Us About A Cripple Wall Retrofit
California Earthquake Authority – The Structural Risks Of A Cripple-Wall House